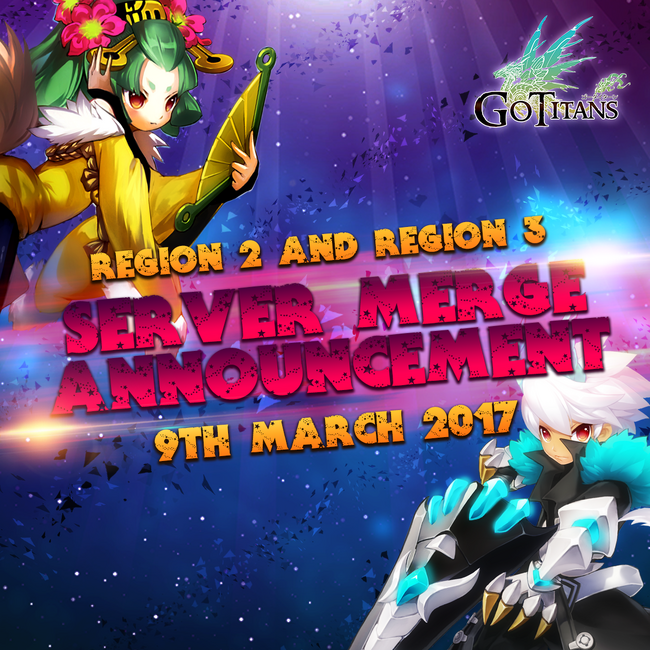 Dear Summoners,
In order to improve the quality of the gaming experience and gaming environment for all our players, Go Titans will be merging its servers for the first time: Servers to Merge: S2+S3; in order to prevent the loss of any information, we recommend that you remain offline during the following times
Servers: Region 2 + Region 3
Merge Time: 00:00 - 03:00, 09 March 2017 (PST)
Merge Events: To thank players from S2, S3 for their support and patience, once the servers have been merged, there will be Daily Login mail rewards with 100 Gems & Food box*5 until 13 March 2017. Remember to claim your mail rewards before 23:59 of each single day ;)
Merge Rules:
Account Merge: If you have the same account in both servers, it doesn't affect your account data. Once the servers have been merged, you will still have the option to enter your Region when you open the game; simple pick the Region in which you wish to continue to play.
Account Data: Player data such as accounts, VIP, resources (Gold, Gems, etc.) will not be affected.
Account name reset: After the merge, if two players are found with the same ID, then the server number is added to the end of the name of the player in the second server; one Name Change coupon is also provided for free.
Example: S2 & S3 have a player named John; S2's John will not be affected, S3's will have his name changed to John_S3
Guild Names: After the merge, if there are any repeated names, then a Guild will have the server number added to the end of the name, and one Guild Name Change coupon is also provided for free. This will be sent to the Guild Leader's mailbox.
Ranking: After the merge, the ranking will be regionally mixed. If there are two ranks of the place, Region 2's rank will be placed before Region 3. For example:
S2 First 5 Ranks: A1, A2, A3, A4, A5
S3 First 5 Ranks: B1, B2, B3, B4, B5
Ranks after Merge: A1, B1, A2, B2, A3, B3, A4, B4, A5, B5
Mail System: After the merge, players' mails will still be saved.

We hope you enjoy the game!
The Celestial Destruction Team
Ad blocker interference detected!
Wikia is a free-to-use site that makes money from advertising. We have a modified experience for viewers using ad blockers

Wikia is not accessible if you've made further modifications. Remove the custom ad blocker rule(s) and the page will load as expected.